In Memory of
CH Of The Heart - Sanorka's Trip Down Memory Lane

Melanie

4/23/02 - 4/21/09

We are saddened to say that our girl "Melanie," died after a brief illness.

Melanie was a gentle soul who loved every human or animal she was around. She was the dog who did no wrong, shared her food with her Sammy family and even the cat. She gave so much and asked for so little. Melanie was the sunshine of our day. She was the smile we woke up to in the morning. A smile we will never see again, except in our memories. As I held her in my arms, her eyes told me she had to go and we held on tight to each other, until the moment she died. As she tried to struggle to get to her feet, I knew I had to tell her it was OK to go, even though my heart was breaking. I wanted to tell her not to go, that she was too young to leave us, we needed more time ... I let her go, as she crossed over the Rainbow Bridge knowing how much she was loved.

Melanie has taught us the meaning of true devotion. With her unconditional love, I know the secret comfort and private peace. Her head on my knees could heal human hurts. Now we hurt for her. Melanie was a source of comfort to nursing home patients as well and was even a "star" in a commercial. Melanie will always be remembered as the star in our life. A piece of my heart will always be with Melanie.

We love you Melanie and know that you are singing with the angels....................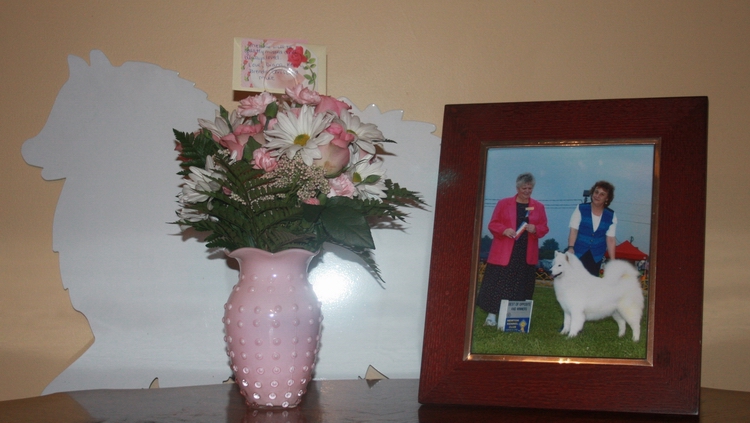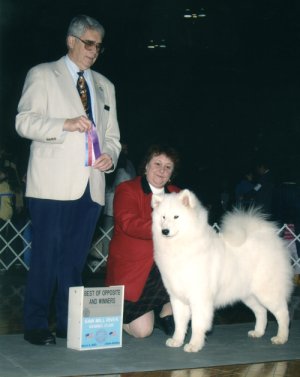 3/09/03 Saw Mill River Kennel Club
Thank You Judge Bill Hossler
Winners Bitch / Best Of Winners / Best Of Opposite - 1 Point
7/19/03 Putnam Kennel Club
Thank You Judge Sonny Ambrosio
Winners Bitch / Best Of Winners / Best Of Opposite - 1 Point
8/29/03 Newton Kennel Club
Thank You Judge Edeltraud Laurin
Winners Bitch / Best Of Opposite - 1 Point
9/21/03 Northwestern Connecticut Dog Club
Thank You Judge Patricia Leakey Brenner
Winners Bitch / Best Of Opposite - 1 Point
10/11/03 Palisades Kennel Club
Thank You Judge Linda C. Krukar
Winners Bitch - 1 Point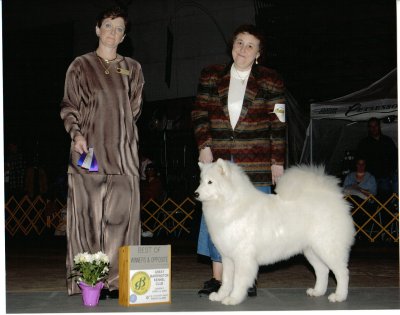 4/4/04 Great Barrington Kennel Club
Thank you Judge Karen S. Riddle
Winners Bitch / Best Of Winners / Best Opposite Sex - 2 Points

Samtasia Homepage
Melanie Pedigree