CH Samtasia's Arctic Knight
9/3/96 - 10/9/08
We are saddened to announce the passing of our 12 year old boy Erik - CH Samtasia's Arctic Knight. Erik died in his sleep, unexpectedly on October 9th. Erik was Samtasia's first Bred-By Champion.
We knew when Erik was born, he was a very special boy. We soon realized how lucky we were to have him as part of our family. Erik loved to play ball. Every ball in the house was his, no dog in the house would dispute this. He played with his ball, like a puppy, the evening before he died. We had no idea that this would be the last time we would see him playing. How we wish we stopped what we were doing and sat on the floor with him.
Erik became a Champion before he turned 1 year old. He earned his Championship in spite of the funny antics he would pull in the show ring - sometimes making his handler feel embarrassed but mostly causing both the Judge and handler lots of laughter. He participated in weight pulls at Nationals, which he thoroughly enjoyed, sledding at home and volunteer work at nursing facilities. To us, Erik had titles no pet could ever win. Each day, he endeared our hearts with love and then he would go to sleep. Erik was a gentle soul who loved everyone. He touched many lives and his loss will be felt by many who knew him. He sired a litter of puppies, whelped May 12th, 2008 and we are lucky enough to have a wonderful son from him. It's hard to bear the thought that we no longer have Erik with us physically, but he is with us everywhere we go. We try to think of all the wonderful memories we have shared with him - especially the quiet times when he would just want to sit on our laps or rest his head on our legs and be petted.
Erik's name was called - the circle of life will take us all. Over the rainbow bridge with a tennis ball he did go - full of love, this we know. We shall play on the other side. Some may say that Erik had a long life - but not us. He left us far too soon. He shall live on forever in our hearts and in the bodies and souls of all his children. Good Bye Erik - We will miss you!
Connecticut River Working Group 3/18/07
Connecticut River Working Group 3/17/07
Naugatuck Valley KC 3/16/97 WD/ BOW 3 Point Major
Springfield KC 5/10/97 WD/BOW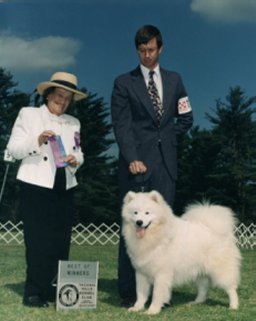 Taconic Hills KC 6/6/97 WD/BOW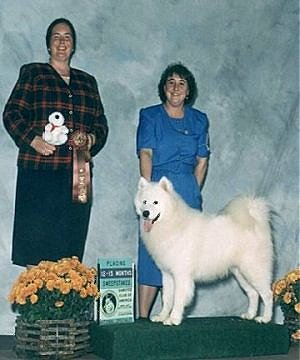 Samoyed Club of America October 1997
October 1997
Erik As A Puppy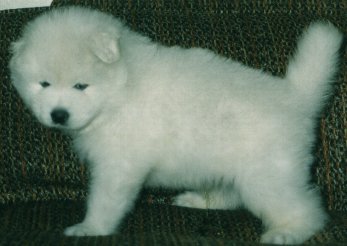 October 7, 1996
October 7, 1996
November 8, 1996
November 8, 1996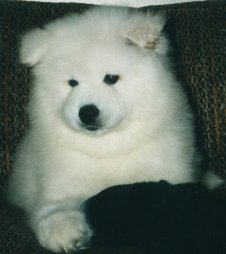 November 8, 1996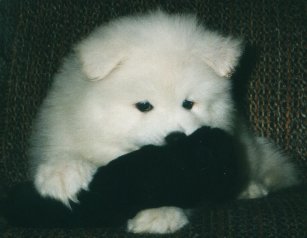 November 8, 1996
Samtasia Homepage
Erik Pedigree