IN MEMORY OF NEIGE
2/14/07 - 6/27/07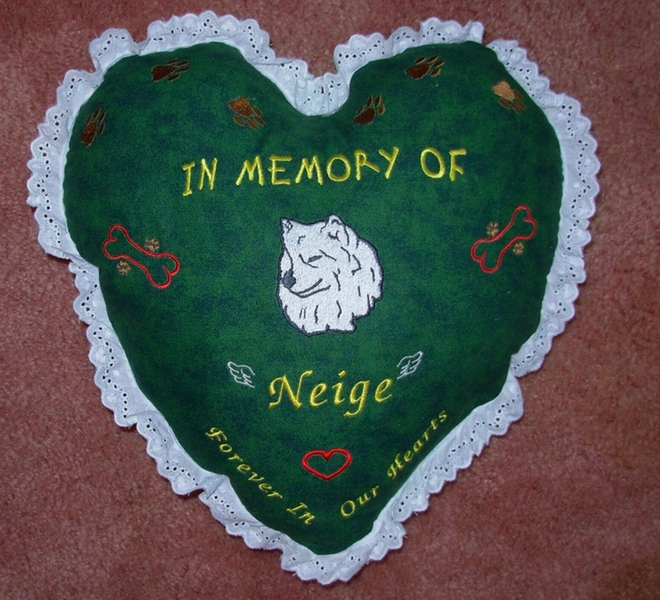 TRAGICALLY LOST IN AN ACCIDENT WHILE STAYING AT A BOARDING KENNEL
NEIGE TOUCHED SO MANY HEARTS IN HER SHORT LIFE.
SHE SHARED HER LOVE WITH SUE, STEVE, CHRIS AND NIK
OUR DEEPEST SYMPATHY TO HER FAMILY
WE WILL MISS HER!
WORDS FROM SUE............
So sweet, so loving — you were with us such a short time. What a joy it was to watch you explore and encounter all the adventures this earth offers.
From your first Vermont snow piles you frolicked in, to the ocean waves that cooled you, to the moss covered stump on our favorite woods trail that spooked you — you brought laughter to us all as we watched you grow. We will remember you bouncing around the yard like a rabbit chasing bugs, your quickness and agility on our jaunts in the woods and most of all your sweet, sweet smiling face.
Each morning you greeted us with your ears back and a smile and oh, how you loved to have your tummy rubbed. Day or night, you would cuddle in our arms, deep in relaxation as we shared our love for each other.
There was so much we wanted to share with you, so many places to explore. You will always be in our hearts Neige – you were our sweet little girl!
FROM LINDA, LARRY AND SARA
The Rainbow Bridge
There is a bridge connecting Heaven & Earth.
It is called the Rainbow Bridge because of its colors.
Just this side of the Rainbow Bridge there is a land of
meadows, hills and valleys with lush green grass.

When a beloved pet dies, the pet goes to this place.
There is always food and water and warm spring weather.
The old and frail animals are young again. Those who
are maimed are made whole. They play together all day.

There is only one thing missing: They are not with
their special person who loved them on Earth.
Each day they run and play until the day comes
when one suddenly stops playing and looks up!
The nose twitches! The ears are up! The eyes are staring!
And this one suddenly runs from the group.

You have been seen, and when you and your special friend meet,
you take him or her in your arms and embrace.
Your face is kissed again and again, and you look once
more into the eyes of your trusting friend.

Then you cross the Rainbow Bridge together,
never again to be separated.
FROM RICK, LESLIE AND ARIEL
I'M STILL HERE
Friend, please don't mourn for me
I'm still here, though you don't see.
I'm right by your side each night and day
and within your heart I long to stay.

My body is gone but I'm always near.
I'm everything you feel, see or hear.
My spirit is free, but I'll never depart
as long as you keep me alive in your heart.

I'll never wander out of your sight-
I'm the brightest star on a summer night.
I'll never be beyond your reach-
I'm the warm moist sand when you're at the beach.

I'm the colorful leaves when fall comes around
and the pure white snow that blankets the ground.
I'm the beautiful flowers of which you're so fond,
The clear cool water in a quiet pond.

I'm the first bright blossom you'll see in the spring,
The first warm raindrop that April will bring.
I'm the first ray of light when the sun starts to shine,
and you'll see that the face in the moon is mine.

When you start thinking there's no one to love you,
you can talk to me through the Lord above you.
I'll whisper my answer through the leaves on the trees,
and you'll feel my presence in the soft summer breeze.

I'm the hot salty tears that flow when you weep
and the beautiful dreams that come while you sleep.
I'm the smile you see on a baby's face.
Just look for me, friend, I'm everyplace!
MEMORIES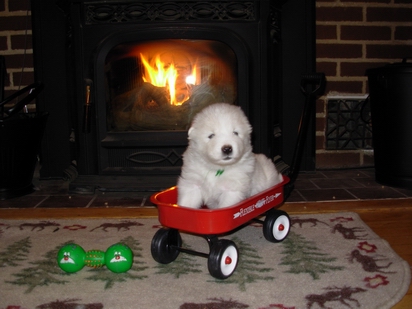 Samtasia Homepage
Contact Us